Tyrrell's Win Major Accolade at 2022 Halliday Awards
2019 4 Acres Shiraz Named Varietal Award Winner in Halliday Awards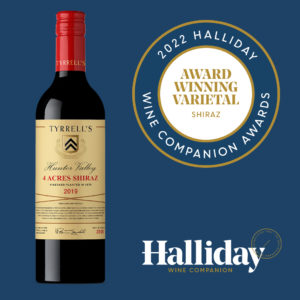 The Halliday Australian Wine Companion Awards 2022 were announced last night via live stream and Tyrrell's is honoured to be awarded the Varietal Award Winner (Shiraz) for our 2019 4 Acres Shiraz.
Planted in 1879 with pre-phylloxera material by first generation Edward Tyrrell, 4 Acres is the oldest vineyard on the Tyrrell's Hunter Valley Estate, "Ashmans". The vineyard with its unique red clay soil is situated at the front of the property, to the right of the driveway that leads up to the winery. This 2019 release of 4 Acres celebrates the 140th anniversary of this historic vineyard. Each vintage, a single Foudre is made, and is only released if it is good enough, such as in 2019, where 3,100 bottles were produced.
Bruce Tyrrell, Fourth Generation and Managing Director of Tyrrell's says, "The 4 Acres is one of the nine Shiraz blocks in the Hunter Valley on its own roots and over 100 years old. If these vineyards had not consistently made great wine they would not still be here."
This award is the culmination of nearly two decades of change that has taken place at Tyrrell's with our red wines. With extra attention and focus on every detail in the vineyard and winery, we believe that we are now making the best red wines in our 163-year history. 4 Acres Shiraz is one of the most unique and rare Shiraz wines on the planet and is a wine with a true sense of place that is made from some of the most significant and important vine material in the world.
"This oscillates with the 8 Acres as my favourite of these single-vineyard expressions. An apotheosis of Hunter savouriness and a lightness of touch of yore. Truly ethereal. Fragrant, with mottled blue-fruit allusions, lilac, nori and chinotto. Clove, pepper grind and cardamom lace the finish. Yet frankly, words are a waste. The texture, the totem. Detailed tannins of immaculate precision. An airy grace. Elegance personified."  97 points – Ned Goodwin, MW, 2022 Halliday Wine Companion.
Below are the full list of Tyrrell's wines included in the 2022 Halliday Wine Companion:
2019 4 Acres Hunter Valley Shiraz, 97 points, Award Winning Varietal (Shiraz)
2019 Old Patch Hunter Valley Shiraz, 96 points
2019 8 Acres Hunter Valley Shiraz, 96 points
2016 Winemaker's Selection Vat 1 Semillon, 95 points
2019 Winemaker's Selection Vat 9 Shiraz, 95 points
2016 Single Vineyard Belford Semillon, 95 points
2019 Old Hillside Vineyard Hunter Valley Shiraz, 95 points
2019 Johnno's Hunter Valley Shiraz, 94 points
2019 Winemaker's Selection Vat 47 Chardonnay, 93 points
2019 Winemaker's Selection Vat 8 Shiraz Cabernet, 93 points
2016 Single Vineyard HVD Semillon, 93 points
2019 Single Vineyard Stevens Shiraz, 92 points
2019 Lunatiq Shiraz, 91 points
Please note, our Sacred Sites wines (4 Acres, Old Patch, 8 Acres, and Johnno's Shiraz) are only sold on allocation to our Private Bin members.
We welcome you to join Private Bin today if you wish to gain access to our pre-release member-only wines.