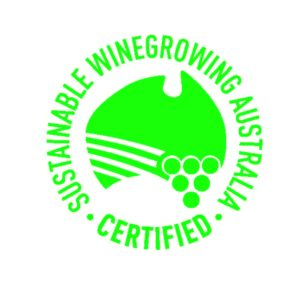 Tyrrell's is proud to announce that as of November 2023, our Hunter Valley Winery and Vineyards are now officially certified members of the national Sustainable Winegrowing Australia program.
This means that wines produced in our Hunter Valley Winery with grapes grown from our Hunter Valley owned-or-managed vineyards may now be classified as sustainable and sold and marketed with these credentials.
We are pleased that our long-held Sustainability philosophies and Environmental Management practices have now been officially recognised and endorsed by this national program.
As a fifth-generation Australian family-owned company, the sustainability of our vineyards and our entire business is of paramount importance, with our ongoing aim to protect and improve our land and environment for the benefit of many more generations to come.
Here at Tyrrell's, we recognise that we have a responsibility to make our operations as sustainable as possible and are committed to doing everything we can to reduce our environmental impact, whether it's in the vineyard, in the winery or in our broader operations.
With this in mind, in April 2009, we established an Environmental Management System (EMS) that was designed to operate in accordance with the requirements of the International Standard for Environmental Management, ISO 14,001. We also established a dedicated EMS team at the winery to monitor and record our energy usage. This allows us to review our environmental performance each year and measure our progress towards achieving our environmental objectives and targets.
The four main areas on which we've focused are:
Sustainable vineyard management
Reducing energy consumption
Reducing water consumption
Reducing waste