Discover Tyrrell's Vineyards by air with this fascinating insight into some of the oldest and rarest vineyards in the world.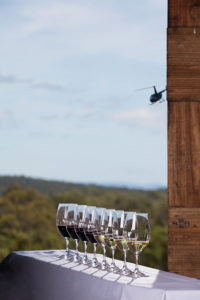 Begin the day with a spectacular helicopter flight over the Hunter Valley, before landing at Tyrrell's Vineyards to experience a personalised private tour and tasting.
Climb back on-board the helicopter, escorted by your Tyrrell's guide, who will show you our properties from a unique perspective. Get a bird's eye view of the historic Tyrrell's Ashmans property and the Stevens vineyard, nestled on the side of the Brokenback range. Fly over HVD, the oldest Chardonnay vineyard in the world, as well as the award-winning Belford vineyard, before landing at your chosen lunch destination.
This luxurious experience will be tailored to your specific requirements and preferences, and can be booked at any time throughout the year.
From $799 per person.
To book a Vertical Decadence experience, contact [email protected]
A truly breathtaking Hunter Valley experience.