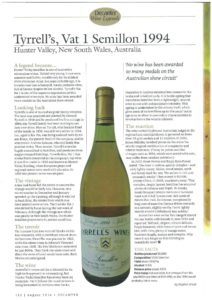 Tyrrell's legendary Vat 1 Semillon has been awarded one of the World's top white wines by the British 'bible of wines', Decanter – which is published in 90 countries.
The legendary Vat 1 Hunter Semillon – Australia's most iconic white wine – has been internationally recognised for over five decades.
Decanter communicated that the 1994 vintage of the Vat 1 "certainly pleased Australian judges in the regional and national shows; it garnered no fewer than 32 gold medals and 12 trophies"
"It is a great honour for our Vat 1 to be included amongst the world's great wines. We began the journey to drive recognition of Hunter Semillon in the late 1980's, and it looks like we've arrived." says Bruce Tyrrell, Managing Director.
Vat 1 Semillon, the flagship wine, has been grown in the Hunter for decades. It is only ever made from the best blocks on the Tyrrell's Ashman's property, with the oldest plantings being from 1908.
The only other Australian wines to have been included amongst this exclusive Decanter Wine Legends list are Penfolds Grange 1955, Penfolds Bin 60A, Wynns John Riddoch Cabernet 1982, Henschke Hill of Grace 1998 and Lindemans Special Reserve Hunter River Burgundy.
Previous Wine Legends include: Taylor's Vintage Port, Hugel Alsace Riesling, Chateau Haut-Brion Blanc, Egon Muller-Scharzhof, Chateau Palmer, Chateau Mouton Rothschild, Chateau Lafite, Petrus, Chateau Margaux, Krug, Hill of Grace, Chateau d'Yquem, Hietz.
Read the full review in the download link below, or visit The Decanter website.