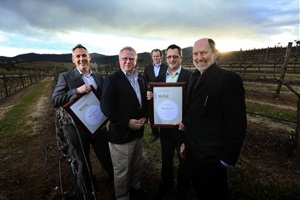 Although the gold didn't shine for the Aussies at the London Olympics, the Tyrrell's Wines team have made up for it receiving four trophies and 13 gold medals at the 2012 Hunter Valley Wine Show lunch held last Friday.
Along with trophies for Premium Vintage Dry Red, Current Vintage Semillon and Current Vintage Dry White, Tyrrell's was awarded The Ryan Family Trophy  the Most Successful Exhibitor of Young Wines, courtesy of the recently released 2012 semillons.
"We took a gamble with the 2012 semillons and finished picking a week later than most to ensure we got real flavour in the wines", said Tyrrell's Managing Director and fourth generation winemaker, Bruce Tyrrell.
"I believe the 2012s are the best whites since 2009."
While it was the semillons that took centre stage, Tyrrell's chardonnays continued to shine taking out three of the five gold medals awarded for the varietal at the Show.
Considered of the best regional wine shows in the country, the Hunter Valley Wine Show introduced two major changes to the schedule this year – firstly one half of the show was dedicated to single vineyard wines to allow the diversity of soils and styles that the soils create to be more widely accessed.
The second change was the introduction of the Wine of Provenance Award, an award designed to celebrate the greatest wines of the region and their ability to age, improve over time and show a sense of place and style.  To enter the award each company was required to put forward three vintages of the same wine over a minimum spread of ten years. The youngest wine could be no more than three years old to ensure that the particular wine had a base in today.  Fittingly, Tyrrell's 1999, 2006, 2009 Vat 1 Semillon and 1996, 2006, 2009 Vat 9 Shiraz shared the inaugural award.
"Receiving this award is a testament to the work we have been doing to further enhance the quality and definition of our top wines particularly the reds," said Bruce Tyrrell
"I would have given up every other medal and trophy to be the first to be awarded these Wines of Provenance, as I believe the award rewards those wines that show a sense of place and have the ability to live and improve with real age, something not all wine regions can achieve."
Tyrrell's Wines full show results are:
WINE OF PROVENANCE AWARD
1999, 2006, 2009 Vat 1 Semillon
1996, 2006, 2009 Vat 9 Shiraz
TROPHY
Most Successful Exhibitor of Young Wines – Tyrrell's Wines
Current Vintage Semillon – 2012 Vintage Cellars Chalkboard Semillon
Current Vintage Dry White – 2012 Vintage Cellars Chalkboard Semillon
Premium Vintage Dry Red – 2009 Vat 9 Shiraz
GOLD MEDAL
2012 Brookdale Semillon
2012 Belford Semillon
2012 Vintage Cellars Chalkboard Semillon
2012 HVD Semillon
2011 Moon Mountain Chardonnay
2011 HVD Chardonnay
2011 Stevens Semillon
2010 Vat 8 Shiraz Cabernet
2009 Vat 8 Shiraz Cabernet
2009 Vat 9 Shiraz
2009 Vat 47 Chardonnay
2007 Vat 1 Semillon
2005 Vat 1 Semillon
SILVER MEDAL
2011 Vat 8 Shiraz Cabernet
2010 Vat 9 Shiraz
2010 HVD Semillon
2009 HVD Semillon
2009 Stevens Semillon
2003 Vat 1 Semillon
BRONZE MEDAL
2012 Vat 1 Semillon
2012 Stevens Semillon
2012 Old Winery Semillon
2011 Vat 1 Semillon
2011 Vat 47 Chardonnay
2011 Johnno's Shiraz
2011 Belford Chardonnay
2010 Stevens Shiraz
2009 Brokenback Shiraz
2009 Belford Semillon
2007 HVD Semillon
2006 Vat 1 Semillon
2006 HVD Semillon
2004 Vat 1 Semillon
2004 Vat 9 Shiraz
2004 Vat 47 Chardonnay
1998 Vat 1 Semillon