Tyrrell's have been awarded 1 trophy, 2 top golds, 2 additional golds, 5 silver and 10 bronze medals at last week's Adelaide Wine Show. This represented an 82.5% strike rate of medals to entries.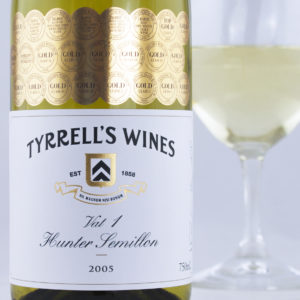 They were awarded the Finlayson's Trophy for The Best Semillon of the Show with their 2005 Vintage of the iconic Vat 1 Hunter Semillon. This wine's show tally has now reached a total of 25 trophies and 46 gold medals. Tyrrells have been awarded this trophy for the last six years.
The other top gold was for Belford Chardonnay 2014 which will be released in early October 2016. The remaining two golds where with Vat 47 Hunter Chardonnay 2013 and Vat 1 Hunter Semillon 2009.
"I am delighted to again win the Finlayson's Trophy, but the two Chardonnay golds are the ones that please me the most. The changes we have introduced in Chardonnay-making in the last five vintages are really showing results, with Vat 47 being awarded 8 trophies and 30 gold medals, and the Belford Chardonnay being awarded 5 trophies and 14 gold medals since the 2012 vintage" Bruce Tyrrell said of the results.