Tyrrell's have been awarded 2 trophies, 3 top golds, 1 additional gold, 6 silver and 10 bronze medals at yesterday's Royal Melbourne Wine Show.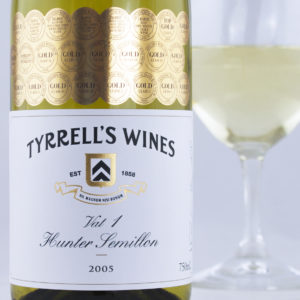 The big winner for Tyrrell's was the iconic 2005 Vat 1 Hunter Semillon. This wine was awarded the Trophy for The Best Semillon of the Show and the Trophy for Best Mature Wine, as well as a top gold. This wine's show tally has now reached a total of 27 trophies and 47 gold medals.
The other top golds were for the 2016 Vat 1 Semillon which is available at Cellar Door now for pre-release, and the 2013 Vat 47 Chardonnay. The 2015 Vat 47 Chardonnay also received a gold.
"I am delighted to win the two trophies with 2005 Vat 1 Semillon, but the two Chardonnay golds are the ones that please me the most. The changes we have introduced in Chardonnay-making in the last five vintages are really showing results, with Vat 47 being awarded 8 trophies and 30 gold medals, and the Belford Chardonnay being awarded 5 trophies and 14 gold medals since the 2012 vintage" Bruce Tyrrell said of the results.