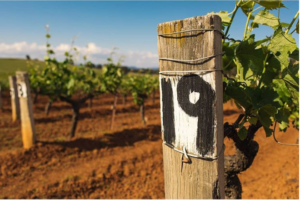 The 2019 Vintage will commence at sun up tomorrow morning, with hand picking Chardonnay at Penfold Vale for the 2019 Blanc de Blancs Sparkling.  We were lucky enough to get 25mm of rain on Friday night with another spectacular light show put on by God.  Not as good as New Year's Eve but nearly.  The moisture after the hot weather has got the vines working again and the fruit has considerably changed from last Friday morning to this morning.
Wednesday night and Thursday night we will pick the Chardonnay Pinot Noir Brut using two harvesters at once.  The pHs are a little higher than expected but the flavours and acids are still fine.  I expect next week to be a big Chardonnay week with Pinot Noir after that, and hopefully after two or three hot days coming up we get another storm at the end of the week.
Edition 2: Monday 21st January 2019
Well we all have survived the first week and a bit of Vintage 2019.  Monday through to Saturday last week were a run of hot to very hot days, but with some relief at night that allowed us to get some machine harvesting done.  After a bit of mucking around with the machines they have picked quickly and provided us with a very clean lot of fruit.  I suppose last week should be hot because it is right in the middle of summer, and after Monday we were looking for the southerly change that was due Saturday night and hope that we might get some rain to refresh the vines and to cool the air.  We got the cold change on Saturday night, and 6mm of rain this morning.  The worry at the beginning of the week was how much damage the heat might cause to the chemistry or the general condition of the leaves (I got sun burnt on Monday filming the 7.30 Report and we certainly do not want the vines to peel as badly as I did).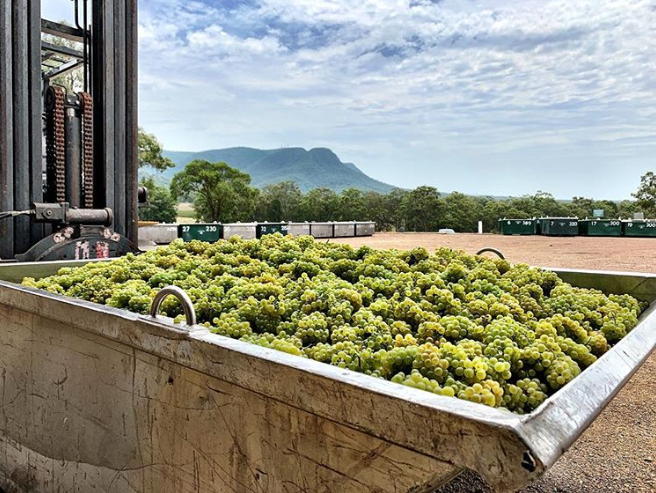 We have started with as good picking team as I think we have ever had. The only Australians are grey nomads and the rest are from about 12 different countries with the biggest numbers from France, UK and the USA.  Tuesday, 15 January we tested all of the Chardonnay and Verdelho to get a picking plan into place. We handpicked 9.75 tonnes from Penfold Vale to get started and this is for our yet to be replaced Blanc de Blancs sparkling, which came in spot on 10 baume which is perfect for this wine. The Chardonnay test showed everything basically the same in good condition and with the flavours arriving earlier than last year.  We will probably start on Friday, and probably will not stop until all the Chardonnay is off.
On the 17 and 18 January we went back with the mechanical harvester to Penfold Vale to pick the Chardonnay Pinot Noir Brut and still had 13 tonnes of Chardonnay there to pick Saturday night for Hunter Valley.  Penfold Vale was down 20 tonnes on last year, which was all accounted for by reduced berry size from the drought.
All the Verdelho was picked on Friday night / Saturday morning.  The crop was approximately half of last years, and this confirmed my belief that this Vintage "the good vineyards that have been well looked after will perform well, but the ordinary vineyards that have lacked attention will be a mess".  We did a full test of all remaining Chardonnay and Pinot Noir on Sunday morning the 20 January, and again they all tested the same but there were no signs of any greenness but the sugars are still a bit lower than we would like.  I do not think we will have any high alcohol Chardonnay this year.  We picked NVC and the Road Block Chardonnay this morning, and whilst they were OK they came in less than they tested.  We will pull the pin now and leave picking for one or two days, but will also start testing Semillon to see if we can find something to keep the crusher working ie. Stevens or Pokolbin Hills later in the week.
No great worries for the rest of this week except a couple of hot days, and perhaps a lack of patience.
Edition 3: Tuesday 29th January 2019
This seems like a month ago.  We are sitting quietly waiting for something to happen.  We have done a full test on all of the remaining Chardonnay, Pinot Noir and Semillon and nothing much has changed since the last test and nothing is really ripe.  Picking delayed until Thursday, and we will then take the first Semillon of the year.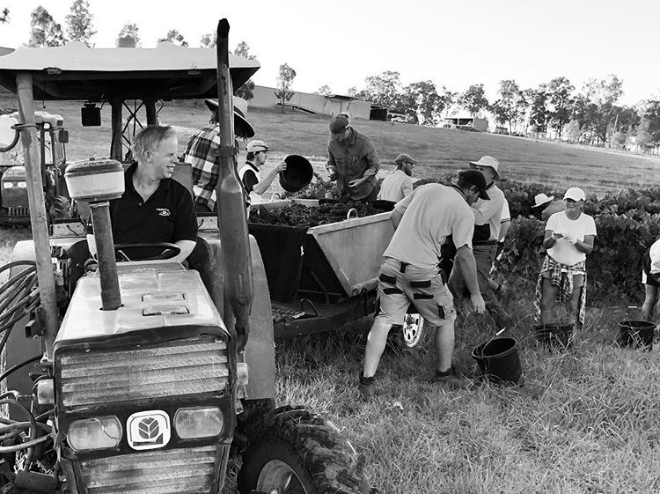 We picked Pokolbin Hills Semillon by hand on Thursday, 24 January, and the Chardonnay and Hill block by machine that night.  The Semillon is first rate, and by the look of the Chardonnay there certainly will be a Vat 63 out of 2019. Extreme heat has backed off for the next few days so we will get going pretty much continuously until all of the white is off.  The heat expected over this last weekend "Saturday got to 42 degrees" is starting to knock the vines about, but on the other side of that the acid still remain quite good and the sugars are not rising at any great rate.  I doubt if there will be any white of the alcohol levels of 2018, but the flavours are more advanced.  Had my first look at Gamay at "Loggerheads" this morning, which we ended up picking on Monday with almost perfect chemistry, and a bit more than last year so there should be around 140 dozen.  Also on Thursday we got our second young Australian on the picking team.
On Friday, 25 January we moved the picking team into the Pinot Noir here at Ashman's and got the lot so it leaves only the Pinot Noir and HVD to pick, and it is three or four days work.  Like all Pinot Noir we will wait until its cleaned up after ferment to see how good it is.  Started Stevens Semillon tonight, which we hoped to clean up in two shifts which we did with a bit of help from one of our harvesters.  Typical Stevens fine, elegant and certainly up there with the Pokolbin Hills quality wise.  Had our first really big night on the 25 January with the Stevens Semillon "the steroids block" on HVD, plus 35 tonnes of contract winemaking (Semillon).  It was well into the next day by the time it was all processed.
On the 26th made a start on the flat for Vat 47 picking the Old Vines, the Well block and the Three Wires before the heat chased us out at 11.30am.  This was all basket pressed and all things being equal we will finish all of 47 on Tuesday and Wednesday.  We had Sunday off from picking so went for a drink at Andrew Thomas' to celebrate Australia Day.  Monday morning we tested Semillon and Pinot Noir from HVD and decided where to start picking midnight Monday night.  Today we have got two nights of machine picking left, and about another 7 or 8 days of hand picking white.  We will test everything during the day today, but from the vineyard side Johnno's Semillon and Belford look like coming off first.  This week looks a little cooler than last the difference between 35 or 36 degrees and 40+ degrees.  We have been held up in picking by having to get the pickers out before midday because of the heat and so we are losing 1 ½ to 2 hours picking time every day.  Pending on the results of today's test we may have to look at a third picking team to get across the country quick enough.
No real rain on the horizon perhaps a storm later in the week and as long as we only get 4 or 5 mls it will have little impact on the fruit except to freshen the vines up.  A bit over a week and the white is done.  I almost forgot, Saturday morning we picked 5 ½ tonnes of Tempranillo from Deasys Road, which is being made into high end Rose as the vines are a bit too young for red.
Edition 4: Tuesday 5th February 2019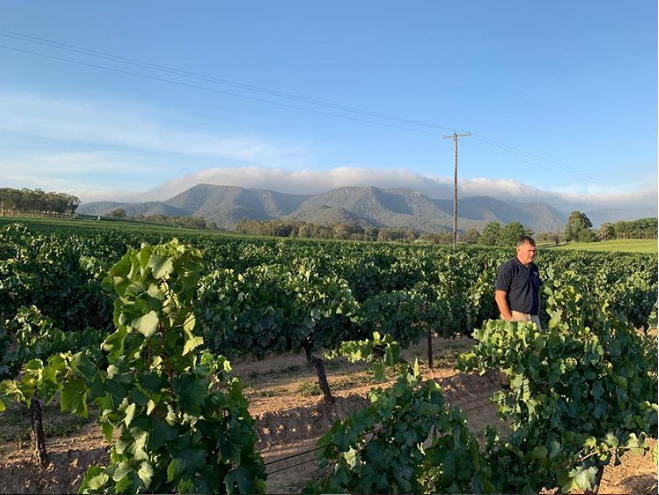 Just finished picking half of Lost Block Semillon on HVD, as well as the HVD Pinot Noir.  Might be the best of the Pinot Noir for the Vintage at 13.5 to 14 baume and loads of colour, and should go straight to Shiraz Pinot Noir.  Semillons maintained the 10% to 10.5% alcohol like the rest of Vintage so far, and we will finish Lost Block Wednesday night.  The hand pickers went into the Short Flat of Vat 47 and will stay there until they finish it.
Chardonnay crop is up on the Short Flat by about 20% and this has been the same for all of the Chardonnay this year except Penfold Vale.  Fruit was in perfect condition and will be between 12.5% and 13% alcohol.  The pickers have had two big days with 6.00am starts and 1.30pm finishes.  Last night was the last night of machine picking white, and there is only five or six days left by hand.  It has still been pretty hot but not as bad as last week.  We have been blessed with a bit of breeze and a bit of cloud, which makes the pickers' life a bit easier.
We picked the mulch trials on Andrew's Chardonnay.  The introduction of mulch has increased the crop level and given slightly better chemistry.  The two parts will be fermented separately and then we can really see if there are flavour differences.  Interestingly, the soil temperature under the mulched rows was a couple of degrees lower than the unmulched area.  We also picked some of Mary-Ann's Chardonnay into smaller bins, and these were kept overnight in the cold room and crushed and pressed the next morning.  Again we will make two batches from Mary-Ann's and see what will be the impact on the final wine.
Finished all of the Chardonnay on the Flat on the 30th and despite the hot dry year it averaged 3.5 tonnes to the acre. The best block picking 4.9 tonnes per acre.  Saturday was Belford, started picking the Semillon, which we planned to finish on Monday with the Chardonnay.  We tested all of the remaining Semillon, which all basically tested the same so we will pick based on the condition of the vines.  So next HVD, then Johnno's and Debeyers, then the Semillon on the Flat Tuesday and finish by about 10am on Wednesday.  The Semillon, we picked on the Flat today, has yielded a bit over 4 tonnes to the acre, and I reckon it is the best Semillon of the year.
On Sunday morning we tested all the reds to be picked by machine, and as a result of that we picked the Shiraz on the Baulkham Monday night and unfortunately we were down on budget by about 25%.  This is an exposed block so we will not make any calls on what the Shiraz crop will be until we get a couple of more normal blocks off.  Looked at all of the hand picking Shiraz today, and really it is like the start of the Semillons.  Whilst we would like to start there is nothing ready so we will look again on Thursday and see if we can find something.  I would suspect that we will have five or six pretty busy days next week and pick all of the Shiraz.  There is no sign of rain, or significant rain, for the next 10 days so the only problem we have got to face is our own impatience.
So far so good.
Edition 5: Tuesday 12th February 2019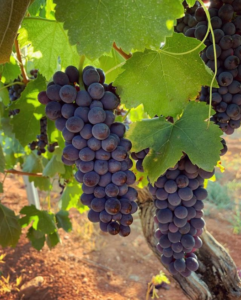 This is the start of the running to the end of the whites with only the Short Flat Semillon left to pick.  It has been the greenest of the Semillons all the way through and the blocks are a little uneven, but I think this should get us as good Vat 1 as we have had for a while.  Finished that the next day.  The Semillon crop on the Flat is up about 15% – 20% on last year, and the total Semillon crop is up 5% on last year.  So white wise we are pretty much spot on what we expected.
We started testing some red and basically nothing except the Baulkham was ready and we picked it in the early morning of the 6 February.  This is a hard exposed piece of country and the crop was down significantly, which I hope is not going to follow through the rest of the red vintage.  Friday night we had 15mm of rain, and by Sunday morning the Shiraz had kicked in and things were starting to move.  We started hand picking Monday morning with Johnno's, the House block and Matthews. The later will be part of Vat 9.  Picked for a couple of our grape growers last night and today we have picked the 4 Acres and just finishing part of Weinkeller, which is for Vat 9.  We have got the hot day today supposedly getting to 39 degrees by 4.00pm or 5.00pm, but then we come into ten days of relatively cool weather and more importantly nights down to 15, 16 and 17 degrees.
There will not be much Shiraz left to pick by Saturday night. The skins on all of the Shiraz are very thick and so they have stood up to the tougher weather. There is plenty of colour and plenty of flavour so touch wood there are no fears now of anything but a good red Vintage.
I have tasted a few of the early Semillons, which have just come off ferment. The Belford, HVD and Stevens all look very good and Vat 1 is still fermenting so it is a bit early.  Most of the Chardonnays are in wood.
Still remains, apart from some harvester problem early, one of the calmer and easier Vintages.
Edition 6: Tuesday 19th February 2019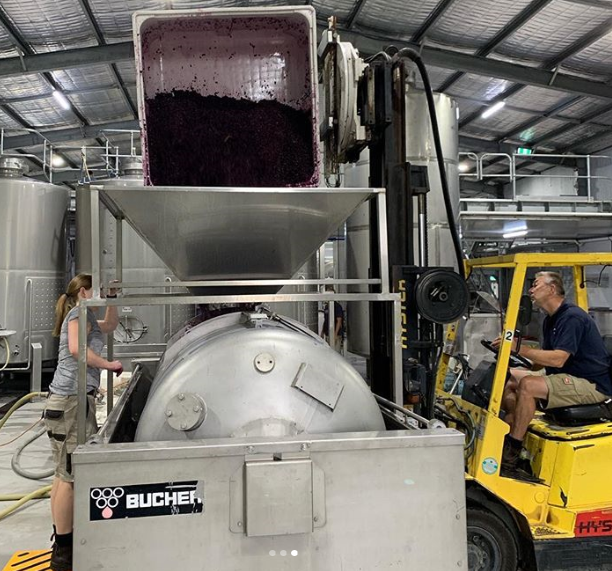 The 15mm of rain two Fridays ago has had a huge impact on the Shiraz kicking the vines back into life producing both sugar and flavour.  Rarely do we say that rain fall is a major impact on Vintage, but this 15mm certainly was. To offset that however, last Tuesday got to 39 degrees and that offset some of the gain from the rainfall.  The berries dehydrated and the leaves, and the top of the bunches, got some sunburn.  All of the good vineyard was sprayed last year with sunscreen and we would have liked to have had a second application but there was none available to purchase in Australia.  If these conditions continue our fungicide spray will be negligible but we will spend that money on sunscreen.
From the 12th through to the 16th we did not stop, and today there is only 4 tonnes of Sangiovese and 2 tonnes of Cabernet left to pick in the Hunter.  We finally got our second harvester working properly, and with a full hand picking crew and two harvesters getting the fruit in on time was no problem.  The reds in general look to have plenty of colour and flavour, and basically they have all had clean ferments.  It is a nice position to be in to have enough fermentation space to hold the whole Hunter red vintage and so just about everything will spend some time on skins once ferment is over.
Tonnages were about on budget with the best crops, and some of the best fruit, coming off the irrigated vineyards.  The best fruit I saw picked was the 4 Acres, and these old vines never cease to amaze me as to how well they perform.  We tasted nearly all of the Semillon yesterday morning. The Single Vineyards all have their own distinct characters and at this stage it is hard to pick, with my two favourites being Stevens and Belford, but Vat 1 might pip them both with a bit of age.
This week is cleaning bins and putting away tractors getting the harvester ready to go to Heathcote, which will probably start in about two weeks.
All in all an easy and calm Vintage.
Edition 7: Tuesday 26th February 2019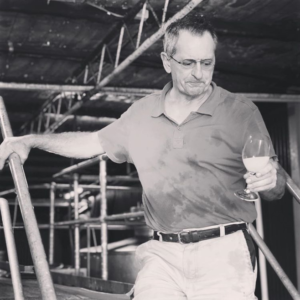 Monday last week was largely the end of our own Vintage.  We have done a little bit of contract work mostly for the Bishops at Coolangatta Estate, and then on Friday morning we picked the Sangiovese and made Rose from it.  It really could have done with another week on the vine but last Wednesday night the fruit bats ate about a third of the crop, and we knew if we left them out any longer that the whole crop would be eaten.  This left the only grapes in the Hunter, the Cabernet at Pokolbin Hills, which normally goes into Vat 8.  I walked through it on Saturday afternoon and the fruit was in almost immaculate condition and at least a week away from being ready to pick.  Hopefully the fruit bats do not find it.
We are just starting to take off some of the 2019 Shiraz and they all look to have great colour and good depth of flavour.  I still think the 4 Acres will be the best.  We started seriously testing at Heathcote and with some hot days to come the mechanical harvester will go down on the truck on Thursday, and I suspect we will start on Sunday night and go through for five nights. There will be 7 to 10 tonnes to hand pick at the end, and these vines have been regenerated after contracting dead arm.  All of the Heathcote fruit is transported back to Pokolbin in three tonne bins at about 32 tonnes per load. This takes about 15 hours and then they are unloaded straight into our big fermenters that were specifically designed for this fruit. The sugar acid pH balance in the samples for Heathcote is exactly where we like it.
We did our first tasting of the 2019 Semillons last week.  They are quite traditional in style, not as big and forward as last year and they all have strong vineyard character.
Edition 8: Monday 4th March 2019
We finished the last of the Hunter grapes on Friday morning with the Pokolbin Hills Cabernet for Vat 8.  Unfortunately, the fruit bats took about a third of the crop two nights before, and I was not prepared to risk any more of the fruit.  So the Hunter was finished, and I refer to this as a really good solid Vintage.  We have come in spot on our crop expectations.
With the Hunter finished we start tonight at Heathcote. All the tests so far are showing us 13.5%– 13.8% alcohol, with good balance, acid and pH.  We will have some hand picking to do on Wednesday for Lunatiq, and there will be about 15 tonnes towards the middle end of next week from vines that have been reconstructed because of dead arm.  This means we have had to cut the vine off about a foot up from the ground, and then take the strongest sucker that the vine has thrown out, take it up to the wire and start the vine a new.  So the end is very much in sight.
At Heathcote, we have got irrigation as it has been much hotter and drier than here in the Hunter.  Our only harvesting problem is that later in the week the night time minimum gets down between 4 and 7 degrees, which will be too cold to be able to machine harvest at night.  This happened last year, and you really cannot get started until about 7.00am in the morning.  If the fruit is either too cold or too hot the harvester has to beat the vines a lot harder than normal to get the fruit to come off, and then you start to do serious damage to the vines and the potential for next year's crop.
Thankfully we have no fire close to us.
Edition 9: Tuesday 12th March 2019
We crushed our last grapes for 2019 on Monday, 11 March.  On Monday, 4 March we started picking at Heathcote after two days of extreme heat, which pushed the sugars up a little quicker than we had anticipated.  We always knew the heat was coming and that it would have an impact, but that impact was about half a baume more than we would have liked.
We picked our vineyard in four nights with a machine and a couple of short shifts by hand to give us some whole fruit to go into the fermenters.  We finished the fruit we buy from our next door neighbour at Heathcote Monday morning.  His crop was down by about 20% on expectation, but we picked almost the identical crop to last year.  The alcohol will be mid 14s but they have very good acid and pHs, but if the fruit is any indication the 2019 Heathcote will be very good.
Yesterday we finished our last contract winemaking crush so in about ten days all of the red ferments will be off skins, and then we can clean up and return to looking after the wine.  All in all this has been an easy Vintage with breaks between each variety and area, no rain of any consequence so no bad tempers and swearing at God for making us wet.
It will be good to taste through everything in a couple of months to properly see what we have got.  By the time we finished at Heathcote we finally seemed to have chased the devils out of the mechanical harvester, and it picked perfectly the last two nights.