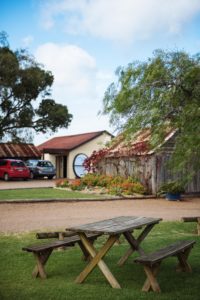 Tyrrell's Wines has been named as the "Star Cellar Door" for the Lower Hunter region in the latest issue of Gourmet Traveller WINE.
Some of the country's top wine writers travelled to over 40 prominent wine regions to select their favourite cellar doors, from small to large, taking into account tasting experience, food quality and additional experiences offered by each winery.
"This is a great achievement for our new Cellar Door team who continue to take the experience of our cellar door visitors to new heights," said fourth generation winemaker and Managing Director, Bruce Tyrrell.
A visit to Tyrrell's Pokolbin based winery and Cellar Door offers a unique insight to over 150 years of winemaking, with the old oak vats and historic dirt floor cellar still in full operation and the original iron bark hut built in 1858 by Edward Tyrrell, the first generation of Tyrrell's winemakers.
Tyrrell's Cellar Door is open 7 days and offers general and private member tastings. To book your tasting experience please click here.