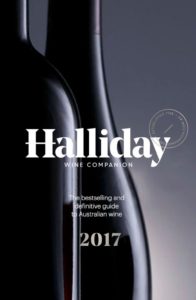 On Wednesday night at the Qantas epiQure Halliday Wine Companion Awards dinner in Melbourne, the results of 630 hours spent in the tasting room by James Halliday, Campbell Mattinson and Tyson Stelzer, were presented in the form of the Wine Companion 2017 Edition.
Tyrrell's received exceptional ratings across the board for their classic Hunter varietals of Semillon, Chardonnay and Shiraz.
The Hunter Reds lived up to the hype of the 2014 'Vintage of the Century' where, as Bruce Tyrrell said, we have "possibly the best [wine] of both this and last century". Especially with the 4 Acres Shiraz 2014 receiving 98 Points, and a 97 and 96 Point rating respectively for the  'stellar' Vat 9 Shiraz and the Single Vineyard Stevens Shiraz which "sends a clear message about its rightful status".
The Hunter Semillons also received high praise, with Halliday describing the young Johnno's Semillon 2015 as "liquid history" with 96 Points. And the older 2011 Vat 1 Hunter Semillon awarded 97 Points and described as "a beautiful Vat 1, just starting its journey towards maturity".
Read the full tasting notes in the Australian Wine Companion 2017 Edition, available from 4th August 2016.