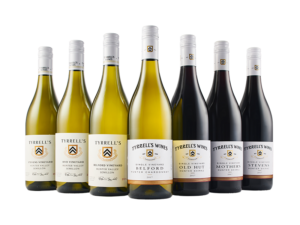 The 1st of October marks the release of Tyrrell's new vintage Single Vineyard Vines.
One of Tyrrell's most important releases of the year, this release celebrates the greatest collection of Single Vineyard wines from the Hunter Valley and their ability to age, improve over time and show a sense of place.
The microclimate of each vineyard produces a wine which is unique and shows a true connection to the soil. Our Single Vineyard wines are only made in years when nature contrives to produce fruit of such outstanding quality that these unique parcels are set aside to be separately bottled.
This release includes wines from 2014 and 2017, both highly regarded vintages producing exceptional wines.
We have also used the 2014 Semillons to showcase our new branding which will be rolled out across the portfolio with vintage change.
Sourced from Neil Stevens' Glenoak vineyard, which features a combination of light sandy loams and transitional darker, heavier clay soils. The oldest plantings on this vineyard are from 1911. Grapes were picked in the early hours of the morning before being lightly pressed. Fermentation in stainless steel at cool temperatures with some time on yeast lees before bottling in July.
The HVD Semillon is only ever sourced from the 'Sign Post' block which was planted in 1908. The vineyard has light, sandy and well-draining soils. The grapes were handpicked and then lightly pressed, and only the free run juice was used. The juice was fermented in stainless steel tanks at cool temperatures. After fermentation the wine spent a short time on lees before being bottled in July.
The Belford vineyard, planted in 1933, is located 10km northwest of the winery. It is the furthest vineyard from the Brokenback Range and has the most broken down sandy loam soil. Its consistency is similar to that of talcum powder. The grapes were handpicked and then lightly pressed with a small percentage of stalks. After a relatively cool fermentation the wine spent minimal time on lees before being bottled in July.
The handpicked grapes, sourced from vines planted in 1991, were immediately basket pressed before going into stainless steel for 3 days. Once fermentation began the juice was transferred to French oak barriques, of which only a tiny percentage was new. The wine remained in oak for 8 months before bottling.
Sourced from the Old Hillside vineyard's mature 50 year old vines (previously owned by the Stevens family). Fermentation occurred in stainless steel open top vats before transfer to mostly newer French oak casks (2700Lt) for 15 months maturation.
Planted in 2003 on red clay soils with cuttings from our 4 Acres vineyard, which sits next to the Old Hut block. Fermentation occurred in stainless steel before transfer into mostly older French oak puncheons (500Lt) for 15 months maturation.
Situated adjacent to Chris and Tegan Tyrrell's house and has always been known as Mother's after Murray Tyrrell's mother who lived there. Replanted in 2010 with cuttings from 4 Acres, Johnno's and Old Patch. After stainless steel fermentation the wine was matured in a single three-year-old French oak cask (2700Lt) for 15 months.