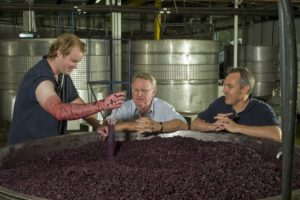 Fifth generation family member and assistant winemaker, Chris Tyrrell has been awarded the Rising Star of the Year Award at the 2012 Hunter Valley Wine Industry Awards.
The Riedel Rising Star of the Year award recognises an aspiring star of the Hunter Valley Wine Industry who has made an outstanding contribution over the preceding 12 months, showing vast results and achievements.
Chris has also been selected for the 2012 Future Leaders Program run by the Winemaker's Federation of Australia. The Future Leaders Program main objectives are to promote leadership development, industry knowledge and create interaction between the program participants, industry leaders and business leaders from outside the industry.