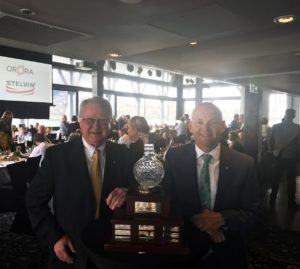 Bruce Tyrrell AM, Managing Director of Tyrrell's Wines was presented with the prestigious Graham Gregory Award at the 2016 NSW Wine Awards, held today at Pier One, Sydney Harbour.
The Graham Gregory Award is a highly coveted citation, named after wine-industry pioneer and former Deputy Director-General of NSW Agriculture Graham Gregory, recognising outstanding lifetime contributions to the New South Wales wine industry.
"I am honoured to receive this award as I now join some of the great men of our industry." Bruce states, "I have done what I believe needed to be done at the times when the industry was under threat, or had an opportunity to take up. I now look to the younger generation to carry that on."
At the helm of one of Australia's most successful family-owned multigenerational wine companies, Bruce has a long history of being highly active in the NSW Hunter Valley industry holding numerous key roles – Director, Hunter Valley Wine and Tourism Association; Former President (twice) of Hunter Valley Wine Industry Association; Director, Hunter Valley Research Foundation and a Founding member of Australia's First Families of Wine.
Bruce's wine career has driven Hunter Semillon to a high level of recognition in the local and world markets. He has championed this through classic site selection, and has been an innovator in the development of single vineyards and regional site specific wines. He also launched the first wine club in Australia, Tyrrell's Private Bin Club.
As a result of his drive and passion, Bruce was named "Hunter Valley Business Person of the Year" in 2003, and awarded an AM under the Order of Australia in 2006. This was followed in 2009 with the bestowal of the "Hunter Valley Living Legend" title.
Bruce is not only a tireless advocate of Australian wine, but embodies the essence of the industry itself. He is a candid commentator and a 'true blue' story teller, whose knowledge and understanding of the history of the industry is profound. He is an irreplaceable character, who has played a pivotal role in the shaping of the Australian wine industry's enviable position on the world stage.
Representing a third Graham Gregory win for Tyrrell's, Bruce now joins an illustrious list of winners of this trophy, including his father Murray Tyrrell in 1993, and Murray Flannigan, Tyrrell's long serving Cellar Door Private Bin host in 2007. Past victors include Phil Ryan in 2006, Iain Riggs in 2002, Brian McGuigan in 2001, and Len Evans in 1997.
Bruce finished his acceptance speech by expressing his gratitude towards the NSW government bodies for their support of the industry, "I would like to thank both the Governor, General David Hurley and Premier, Mike Baird for their stance on only serving NSW Wines in NSW venues, with Government House and the Sydney Cricket Ground as examples."
He also said that it was a great honour to receive such a distinguished award in front of his peers and family.