2022 Vintage Report from Bruce Tyrrell
Edition 1: Thursday 20th January 2022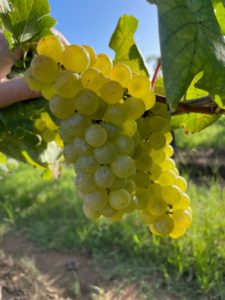 Another different growing season.  For the full year 2021 we beat our average rainfall throughout the whole year and it is wonderful to look out to the green grass, and green vines, instead of dusty brown plants trying to survive the drought.
Nature really is a wonderful thing as we would have at least 1000 new trees that have grown since the drought ended. The vines have all got good foliage and a good to medium crop without being a huge one.  Although it will be interesting to see what the extraction rate is, and that will probably be above normal.  We have had steady rain on and off since towards the end of October, but it has been partnered by wind.  Even today we had a little shower overnight and all moisture in the vines was gone by sun up due to the wind.  With the amount of rain since the start of November there should be rot in the bunches but they are all basically as clean as a whistle.  There is a little bit of dead leaf from downy mildew, but the big factory leaves inside the vine are all in perfect condition.
The other feature is that it is now 20 January and we have not picked anything.  In 2019 we started picking on the 15 January so we are going to be at least a week later than has been the case over the last fifteen years.
We began testing this week and the balance of sugar, pH and acid is really good and there is quite strong flavour in the fruit, and no greenness and hardness.  It sounds like the start to vintage that you always wish for although a lot of the staff are starting to get itchy feet.  If there is going to be a star for this year's vintage at this stage it will be Chardonnay.  It has got everything going right.
We will major test on Monday and I would hope to be picking seriously in the second half of next week.  Then once we start there will be no stopping.
Edition 2: Thursday 27th January 2022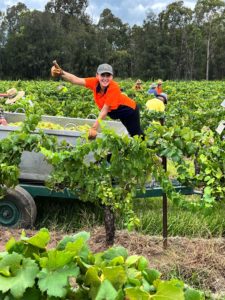 One week into vintage and the grapes are ripening evenly but slowly.  A little bit hotter than last week but only by a degree or so.  So whilst the grapes are coming on they are doing it slowly.
This time in 2018 we had dam near half the crop picked.  So far we have picked Chardonnay for Blanc de Blancs and Chardonnay, and a little bit of Pinot Noir, for the Chardonnay Pinot Noir sparkling, then on Tuesday we picked all the Lower Hunter Verdelho, and today we have started hand picking two old blocks of Semillon and Stevens Glen Oak, which are ready to come off.  Funnily, Semillon 50 metres away down from the top of the hill will not be ready to pick until the end of next week.
We did a full range of samples on Tuesday, which really told us little more than we will not really get serious until next week.  The fruit, in general, is clean with virtually no rot except where there has been some hail damage.  All the samples we have done have got really good flavour and we are just waiting for the acid to drop away a bit so I would suspect that come Monday and Tuesday next week we will get started and probably will not stop for two and half weeks until we get all the white off.
The weather gods continue to smile on us with about 30ºC days and a cool dry south easterly wind.  I keep watching weather reports and so far every time it looks like we are going to get a decent dump of rain it either peters out or goes around us.  There are years when the rain sits over the Hunter Valley and it is very wet, and then other years where the rain is there but it seems to go around either side of the Valley and we have basically a dry vintage.  I think this might be one of those dry vintages.
We have the first load of Verdelho coming from the Hordern's on Friday night and we will see how that tests, and if everything is OK we will finish that Sunday and Monday night.  We have got harvester bookings for Semillon on Tuesday night and Chardonnay Wednesday night and I am sure we will fill in the days after that very quickly.  Despite all reports saying there is no casual labour available we have over 100 names, of local people, looking for work and whilst we have 50 today we will ramp that up to 70 to 80 next week.
We have a few bits and pieces to test today and tomorrow, but we will do another big one on Monday and I think we will be seriously into Chardonnay next week.  If I had to guess, at this stage, after my picking Chardonnay as the variety of the vintage last week I still have not changed my mind. They look fantastic!
Edition 3: Thursday 3rd February 2022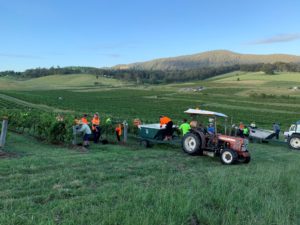 Second week of vintage and we have got approximately one third of the Hunter grapes in the winery, with four quite big days this week.  The weather was warm and humid towards the end of last week/early this week, followed by Tuesday and Wednesday with 20mm of rain here at the winery.  On Tuesday night we had 8mm and Neil Stevens had 50mm at the Glen Oak Vineyard.  Needless to say we have not picked any of it yet.
Ripening is uneven with blocks that are normally late maturing early and vice versa.  The fruit is remarkably clean considering the bits of rain we have had since the beginning of November and the humidity on the weekend.  The number of pickers have become a problem as almost half of our crew were off in Covid isolation.  Having this reduced back to a week it made life a bit easier and I expect we will be closer to a full crew on Monday next week.  The joy of having two mechanical harvesters means that we now only have three nights work left picking white. The grapes are coming off easily, cleanly and with very little leaf in the bins.
Everyone's patience is a little on edge as the sugars are coming up but they are still quite high in acid.  In some cases too acid to pick.  This means we have had to jump around in our picking schedule.  I like to keep all my pickers together and finish our entire vineyards as so much time can be lost when you are moving 50 to 60 people, but nature has given us little choice this year.  My fear has been, in the last few days, that when we got a bit of rain that we would get fresh outbreaks of bunch rot, but going through a number of vineyards today you can see where we had rot a couple of weeks ago but that is now pretty much dried up and not regenerating.  We have put that down to almost always having a decent breeze which keeps everything dry.
For the next week, I would not mind a couple of hot days to just push through the last threshold of ripeness, but if we maintain with cool windy breezy weather, and the odd shower, it will all be very good.
Edition 4: Thursday 10th February 2022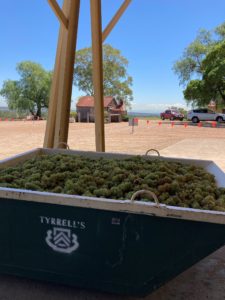 After a week of not a lot of picking we suddenly decided it was time to get serious.  With the later season we have been picking Semillon and Chardonnay together as each block has ripened slightly differently.  For instance, the Johnno's Semillon will be just 10% alcohol while the last of HVD, which we picked last night, will be more like 11.5%.
The Semillon, that were not heavily fertilised, are starting to lose the effectiveness of the leaves, while the fertilised ones are all still dark green and the fruit is in immaculate condition. Whilst we were concerned of rain earlier in the week, and over the weekend, we were thinking that if this keeps up we need to go, and go hard.  Acids and pHs are almost perfect but the sugars still were not quite high enough.  We were prepared to take a little alcohol drop to make sure the flavour and the acid were exactly what we wanted.  Across the board the flavour, and fruit, is really top class.  A couple of specials for the week will be HVD Semillon and Vat 47, and about 80% of it will be picked by this afternoon.
Looking back on the week, we are very happy with what we have got.  Clean fruit and good flavour being the stand outs.  On the weekend I went through most of the white that was unpicked and came away with a few blocks that scared me as they looked like two or three days of rain and the whole vineyard would have got rotten, but some warmer weather, only a few showers, and most importantly moderate to strong dry wind everything should be fine.  On Sunday morning it rained around 10am but by midday the vines were dry so while the Chinese have got the Year of the Water Dragon, and we look like having the same, it has now turned into the Year of the Wind Dragon.
We should, largely, be finished white picking about Wednesday next week and we are testing the first lot of reds this afternoon to see where they are at.  The only panic for the last week was in our own minds, and as we followed nature that went away.  A busy week helped by being able to get extra pickers.
This time next week we will be talking about reds and probably only another ten days of the Hunter Valley vintage to go.
Edition 5: Thursday 17th February 2022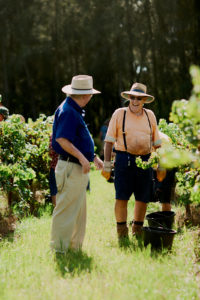 Last Thursday morning we were looking at a big week of whites ahead of us.  The Semillon and Chardonnay have been coming in together rather than one variety at a time and ripening is more block related rather than variety related.  This has required us to jump about a bit with our picking schedule.
In the last week we have picked 350 tonnes taking us to a total of 750 tonnes for vintage to date.  The only white left to pick is Fiano, which will be early next week.  The pear character that makes Fiano so attractive is just not quite there yet and the acids have been too high.  The Roussanne has still got so much acid it would take the enamel off your teeth and hopefully it ripens before the birds eat it all.
Last week started with the hope of a fine week to get a bit more sugar, particularly in the Chardonnay. The flavour has been great since the start of vintage but we just wanted a bit more alcohol for weight on the palate so a couple of larger chunks of Chardonnay were pushed back into this week and that has paid off.  One of the best looking Chardonnay came in yesterday morning at just over 13% alcohol and the Belford Chardonnay fruit might be my favourite of vintage so far.  The Semillons will be an average of 11% to 11.5% and they have got the acid to carry that, as well as plenty of flavour.
Pickers have still been a problem with just the number of people available and those who have had to stop picking because of Covid.  We have been helped out by one of our growers who has his own contract picking team.  Hopefully next year we get some backpackers to help us out.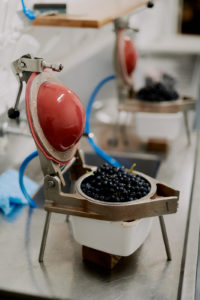 Yesterday we turned our thinking to red grapes and did the first big test of nearly all of the red blocks.  The forecast for the weekend is not great, and although we will get some rain hopefully it is not too much.  The Shiraz skins are a bit thinner than we like and that is the result of three months of wet weather.  Like the whites there is a bit of damage in the reds, but it is drying up and there is no obvious active bunch rot.  Five or six days of rain could ruin that. We have planned to pick 60 to 80 tonnes before Saturday night as an insurance pick and if the weather gods look after us we will be OK next week.  It is nice to have a team of pickers and three mechanical harvesters to work with.  If we have to move in a hurry we can do so.
Chemistry wise, on the reds, they all have good pHs and acids and the alcohol equivalent are about 12¼% to 13¼% and I would like to get them all into the 13s.  We are looking at a medium bodied year, with plenty of flavour and structure for some of it, and hopefully if the weather stays kind all of it.
Edition 6: Thursday 24th February 2022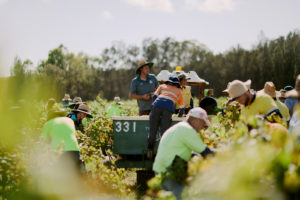 The last of the Chardonnay was picked last night at Broke and it was of the same quality as all of the whites so far.
It has suddenly become time to start thinking about red.  We tested almost everything and despite the cooler weather, and a bit of rain about, we made a start with Shiraz at Pokolbin Hills.  Nothing else was quite ready so we decided to wait until after the weekend to start seriously picking red.  In general, the fruit was in much better condition than it deserved to be with the bit of rain around.
The weather forecast changed over the weekend so with the sign of more rain coming we put the foot down on Monday picking 100 tonnes for the day, which is a significant amount of our Hunter Valley Shiraz including the 4 Acres, 8 Acres and Johnno's.  It is a relief to have most of the Sacred Sites in the winery.  The red fruit is remarkably clean and like the whites there is no sign of any bunch rot through the crop, which I put down to the wind that keeps drying the vines almost immediately after there is any rain.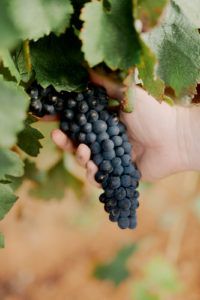 We have worked on through the rest of the week picking the ripest fruit we could but using the old rule of "if you can get a tractor in then we will pick it".  Today we picked the Sign Post, just at the front gate, which is the basis for Vat 8 and we will try to get back into Weinkeller for Vat 9 as the day goes on.  We have picked about a quarter of Old Hillside, about 15% of Stevens, and at the moment those two vineyards are going to be difficult to get onto until the rain stops.  Old Hillside; we can carry out with buckets to the end of the rows, but Stevens will be a problem to get onto.  It has a steep hill in the middle where most of the red grapes are and vehicles will not get anywhere near it.  So the rest of vintage is a day to day exercise as we go where we can get the tractors and pickers in.
The amazing thing is the quality of the fruit.  It should be rotten and lying on the ground. The bunches are still open, and air can get through, and there is no sign of rot.  In fact we have a bit of shrivelling where the bunches have lost juice, and it looks like 60 odd percent of the red crop we have now picked is going to be about 12.8% to 13.5% alcohol so I am more than happy to see that.  Most of the Shiraz has got really good colour in the ferments with a couple that look like 2018.
Next week will depend solely on the weather.
Edition 7: Thursday 3rd March 2022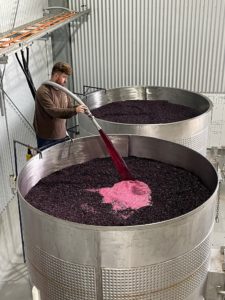 On Friday morning we continued picking Shiraz where we could get at it. The fruit is still in remarkably good condition with virtually no bunch rot and alcohol between 12.5% and 13%.  The outlook is for continued rain over the next week or so, and now we are racing to pick what we can.
On Monday we also picked all of the Fiano, which was 15 tonnes at 12% alcohol equivalent and plenty of acid.  This variety appears to be totally bulletproof with good ripe pear flavours, and still fresh clean acid.
Tuesday morning it had got to the stage where there was no fruit left that we could get to and so the best part of Old Hillside and Stevens Glen Oak will not be picked.  Rain has continued since then and now the fruit that is still out there is losing colour, flavour and alcohol so we have decided that the red vintage is over except for the Cabernet, on Pokolbin Hills, which if it fines up in the next couple of days may still make it.
We did the first lot of Heathcote tests yesterday and they look like they are about two weeks away, and the fruit is even right across the vineyard.
We hope that it stays dry down there.