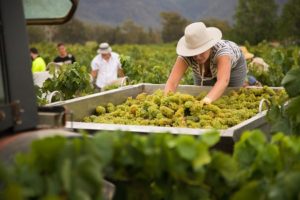 The 2018 Vintage is now into its second week. We started picking on Wednesday, 10 January which is three days earlier than last year. As I look out the window at the bare paddocks we could not be any further away from 2012 and 2015 if we tried. This Vintage is as a result of one of the driest growing periods since the mid 2000s, and we have had less than 150 millimetres of rain from Easter 2017 to now. The only real rain fell in November / December, and I would give my left arm for an inch or two of rain this afternoon. The vines however still look in good condition, and if we get through this next weekend (three days of heat) then we will be OK. Wednesday, Thursday and Friday night we picked Chardonnay on Penfold Vale and a little bit of Pinot Noir for sparkling base. On Thursday morning we picked 10 tonnes of the best Chardonnay on Penfold Vale for Blanc de Blancs sparkling. We picked 101 tonnes from Penfold Vale last year and 104 this year. Friday morning we started picking the Chardonnay here around the winery, and by tomorrow morning all of the Vat 47 will have gone through the basket press and into the winery. Last night we picked the first of the Verdelho and our little bit of Traminer came in this morning both picked at exactly the same as last year, and a little higher than we expected.
The concern for the moment is the hot weather at the end of the week, and what that will do to the sugar acid levels in the Semillons. What we seem to be seeing is dehydration only, and the vines have really stopped working. We have got a huge sampling today, and from that we will make the decisions where to pick for pretty much the rest of the week. If all goes to plan we will have all the Chardonnay picked by Thursday, and three or four of the top Semillon blocks picked by Saturday. The Pinot Noir is not quite ready, and will probably be picked Thursday or Friday.
There is not going to be anything light and green and delicate out of 2018!
Edition 2: Monday 22nd January 2018
Woke up to a beautiful start to the day under 20 degrees, lovely cold southerly breeze creating perfect picking conditions. However the forecast for 40 to 40-plus degrees at the end of the week is pushing our thinking into picking quickly. Today the hand-pickers took out about 40%, so a bit of picking tomorrow morning will have all the Vat 47 in the cellar with very solid juice that everyone is happy with, although the basket press will work late tonight. We are going at 9pm tonight to Pokolbin Hills, and by lunch time Tuesday plan to have picked all of the Chardonnay, all of the Semillon and all of the Verdelho. Semillon particularly looks very good.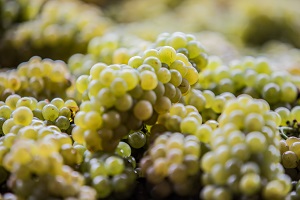 Looked at MetEye and the forecast for the 40 degree days has been downgraded, and I hope the Bureau has got it right and the cold nights continue. Wednesday morning another long cold night and all the harvester and night-shift crew were in heavy jumpers this morning. Our biggest night so far with Stevens Semillon, HVD and Howard's Chardonnay. Picked 110 tonnes in the last 24 hours. We did a full testing of Semillon on the Wednesday, and as we are almost finished the Chardonnay we could easily go straight into the Semillon. Wednesday night picked HVD Pinot Noir, and on Thursday the Pinot Noir here at the winery for Vat 6. Chemistry is almost perfect, lots of colour, plenty of flavour and plenty of length in the juice. It will be mostly naturally fermented, with a couple of different yeasts being trialled on small batches. The Semillon tests showing us that chemically they are ready to go but the flavour is still not there, and a lot of the juice still tastes like freshly cut lettuce. Not the best character for top Semillon. With the Chardonnay almost finished tonnages are about the same across the board as last year.
Thursday and Friday night we picked all of the Verdelho at Broke Fordwich, with the crop up by about one third on expectations. It has been so dry that the bark on the vines was full of dust, and there was actually some silt that came out in the settling tanks. Thursday night/Friday morning we started to pick Semillon on HVD and on the flat for Vat 1. We pulled out of both after about an hour as they still had a green taste. So the plan to finish whites by Australia Day went straight out the window. Basically had the weekend off. Picked a couple of small blocks of Semillon on Sunday night but tomorrow we start picking Semillon seriously.
The heat is starting to knock the vines about, and I do not believe they are going to last a lot longer. Saw one vineyard today that had full leaf yesterday but was starting to drop leaves today. There is still about 120 tonnes of Semillon to pick by machine which will take us three nights, but there is five to six days of hand picking to come. So hopefully we can get it all done by Saturday afternoon. This is going to be a tough week for the pickers as we have got higher temperatures, but the cloud cover has gone away so they are going to get hot quickly. I would not be surprised if we have not machine harvested some red before the end of this week.
Edition 3: Monday 29th January 2018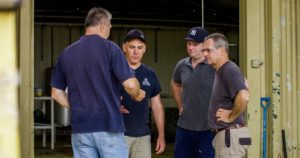 On Monday, 22 January 2018 we headed into the last week of whites with a quiet first 24 hours as we are still looking for more flavour development in the Semillons. The sugar levels were right, the flavours not quite there, plus we were looking at a hot week ahead with temperatures in the high 30s to the low 40s and not the slightest sign of rain on the horizon. On Monday night had a couple of small batches of Chardonnay from our grape growers with one of them from Deasys Road being in the best condition of any fruit we have taken this year. On Tuesday morning we were due to pick Debeyers Semillon, and then on Wednesday finish picking Vat 1 on the Short Flat, however there was a slip of instructions in the vineyard. I turned up at Debeyers at 6.30am and could not find the pickers so I went to the Short Flat and they were there, so the picking of the two blocks got reversed for very little difference, except a couple of embarrassed people. Tuesday night the harvester got back into HVD and two thirds of the "Lost Block" was picked, and we will clean up the balance on Wednesday night. This will finish all machine harvesting of our own whites. Machine harvesting has gone without a hitch, and the machine is picking as cleanly as the hand pickers. In HVD you would hardly know that there has been a machine there.
Wednesday morning we re-tested HVD Sign Post and the Belford Semillon as these were the only two blocks of Semillon left to hand pick. Belford had slightly better flavour and so we decided to go there first and in the end it had a smaller crop so it should have been the riper of the two blocks. I tasted it out of tank yesterday, and it will take some beating for the 'Best Semillon of the Year'. Normally it takes more than a day to pick Belford but the crew got over it by 2.00pm, and so will come in Friday morning to make a start on the HVD Sign Post and come back and finish it on Saturday. It is a little higher than normal in sugar but has good acid and lots of flavour in the middle pallet.
Interesting, the crop level variance between the white varieties – Chardonnay has cropped about the same as last year and 15% to 20% above our estimates. Semillon however is quite the other way – down by about 25% on last year. This is down for two reasons I believe, one is the dehydration of the berries, and the other is that we had a very big crop from the Semillon in 2017 and you always get a smaller one the next year. The dehydration has come a lot through an almost complete lack of humidity, which is normally a skurge at this time of the year, and I would still be prepared to give away something valuable for a decent thunder storm. For the white vintage the vineyards that have had irrigation have probably produced the best fruit as they have gone through the season without any real stress, and I would think that taking into account our current weather conditions that any further plantings we do will all have drip irrigation.
Saturday we did a complete Shiraz test so we can get both a short and long term plan for picking, and a bit like the first Chardonnay and Semillon tests there is plenty of sugar but still a number of blocks that need to get some more flavour. The colour of the fruit is brilliant, and I think we are going to look forward to some very good reds.
PS: Picked Johnno's and most of Weinkeller Shiraz today. The juice was in magic condition and unless there is a mistake in the winery there will most certainly be a Johnno's and Vat 9 in 2018.
Edition 4: Wednesday 7th February 2018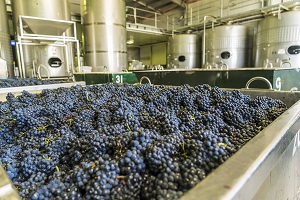 This week marks pretty much all of the 2018 red Vintage. We started with 4 Acres and finished with Mother's block the morning of Wednesday, 7 February. We did not pick last Wednesday as the Shiraz behaved the same as the Chardonnay and Semillon. The earlier blocks which were in fact the highest in alcohol at about 14% then the rest of it lagged, and we needed to wait for that day to get good flavour ripeness. Pretty much everything from Thursday last week on is around 13.5% alcohol, and all of the fruit is of very high quality. Like the Chardonnay the berries are smaller than normal so all of the ferments have got tremendous colour and I doubt there will be any shortage of tannin. Everything has cropped at between a tonne and a half and two tonnes per acre, which is our ideal range. I still walk up and down the rows and look at the Shiraz we have dropped on the ground at Christmas time. One side of me says 'We have wasted the fruit and maybe if we had waited another two weeks we could have got it all ripe'. The other side of my brain knows by controlling the yield we maintain the quality level we need.
The three Sacred Site reds, Old Patch, 4 Acres and Johnno's will all go to bottle out of 2018.
All we have left to pick now is two or three tonnes of Cabernet at Pokolbin Hills for Vat 8, the DeBeyers Sangiovese, and some Tempranillo that we plan to make into Rose. This will all add up to about 10 tonnes, and should be done by this time next week.
Andrew Pengilly and Mark Richardson have gone to Heathcote today to check it out, and it looks like two to three weeks away before we start. The vineyard staff, this morning, were looking at each other and thinking "What do we do in February because we are normally picking grapes?". If all the early indicators are correct I do not think there will be very much difference between this year and last, and there will be some very very good Shiraz.
Edition 5: Tuesday 13th February 2018
This has been a very quiet week with the last of the mainstream of vintage being picked last Wednesday. We still have two tonnes of Cabernet, four tonnes of Sangiovese and 4 tonnes of Tempranillo to pick.  The Sangiovese and Cabernet will quite possibly come off by the end of this week, but the Tempranillo will need longer.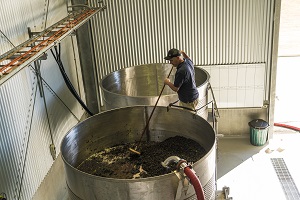 Andrew Pengilly and Mark Richardson have been to Heathcote and it looks like we are about two to two and a half weeks away from picking.  After a massive crop last year we are not expecting any great tonnage from Heathcote, and the tests are indicating a short, sharp picking period.  This week has been dominated by getting reds off skins at the end of ferment. There is plenty of colour, plenty of flavour and solid tannins, and they probably look more like the 2007 vintage.  The whites are all pretty much cleaned up after ferment.
It is the middle of February and it is way quieter than normal.
Edition 6: Tuesday 1st May 2018
Vintage 2018 has been great at Tyrrell's Wines. With all the fruit in, it's time to look at the quality of the fruit and have our winemakers get to work making the Semillon, Chardonnay, Shiraz that the Hunter Valley is well known for! We're really excited to see what Spin, Richo, Pengilly and our winemaking team can achieve with this year's harvest.