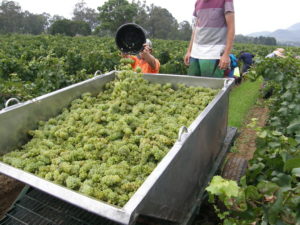 "Here we go again"……in December 2014, we were talking about sending the cattle out with a voucher at lunch time to buy a meal at the local shop because it was so dry. This year, it is hard to find the cattle for the height of the green grass.
2015 was a high rainfall year; almost a third above our long term average…..so, the vines have undergone no stress at all and we have come into the home straight with plenty of foliage. Like everyone, we believed we were going to have a hot, dry summer and so left plenty of foliage on, particularly the western side of the vines for protection against sunburn. The hot, dry period hasn't really started yet. Since the beginning of December, we have had about 450mls of rain, which is more than half our normal average for a year. Most of this has fallen in heavy storms and we have had the protracted periods of drizzly weather that wiped us out in 2008 and 2012.
We started picking on the 14th January with Chardonnay for Blanc de Blanc Sparkling and then yesterday we picked Chardonnay from NVC and the Road Block on the Short Flat, which should give us the first 700 odd dozen Vat 47. With the rain that has been about, the sugars have not been quite as high but the acid and pH's are in good balance, and the flavours are starting to come along nicely. Last night we started picking Verdelho at Fordwich and despite the hour's break with some rain, they were able to keep picking for most of the night. Today, we picked the 4 & 8 Acres Pinot Noir and if we left it until Monday, we would have lost it. We continue with Verdelho tonight and will hopefully have it all finished in the early hours on Sunday morning…weather gods permitting. We will return to the Short Flat tomorrow to continue to pick Vat 47. Looks like the Chardonnay this year is all going to be between 12.5 – 13% alcohol, which suits our style.
As hard as we will try to plan this Vintage, it will be one where the circumstances change every day. The fear for us all is that we will continue to get rain over the next two weeks and although most of the white will be still okay, there will be huge pressure on the quality of red. Despite all the rain, the fruit is in much better condition than it was this time last year. The benefits of a religious spray program are there to be seen. If it fines up and we get the odd flying storm, it is going to be a good Vintage. 2016 will be a year, I think, where there will be some great wines made and a few bloody awful ones, which we will know in about five weeks. The plan next week is to continue until we pick all the Chardonnay and then go to our Semillon. Neil Stevens will start picking Semillon, I reckon, Monday or Wednesday. The crop so far, looks to be down on last year by maybe 10%.
Edition 2: Friday 29th January 2016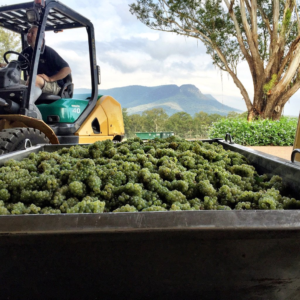 Friday 22nd January, went to dinner feeling quite pleased with the first few days and about 8.00 pm we had 40 mm of rain in one hour. There was absolutely water everywhere. I went to Broke on Saturday morning to check John Tulloch's Verdelho and it is a long time that I have seen as much water running around out there. Started picking the Tulloch Verdelho on Saturday morning and finished it early Monday morning. The crop was down about 30% on last year but he had a massive crop last year…….and normally a small crop follows a big crop. We had clearing skies Sunday and Monday, no rain, a bit of wind and temperatures in the mid to high 20's and that temperature has maintained throughout the whole of this last week. So much for the Hunter being a hot climate.
Our vineyard manager, Andrew Pengilly, and I went through all of the Chardonnay and Semillon on Sunday morning and the Semillon was all still green but the flavour in the Chardonnay had just started to come into the fruit and it was ready to go. The fruit was all starting to go golden and showing some early signs of rot. On Sunday afternoon I thought this vintage will remain a day by day affair and we will need to be flexible enough to move where the ripe fruit that is ready to pick.
Monday, hand-picked the Old vines Chardonnay on HVD and the pickers' were surprised and very proud that they were picking the oldest Chardonnay vineyard in the world. At the same time we were machine harvesting Shim's block next door. This block is named after Alan "Shim" Thompson, who lived on HVD and worked there almost all his life. When we bought the vineyard from Penfold's, the first thing they insisted on was that Shim and his wife can remain rent free in the little house on the property for the rest of their lives. Funnily, six weeks after we bought the vineyard, they moved into Cessnock.
Looked around the Semillon again and although it looks ugly from the hail damage that accounts probably for a loss of 5% or less, and much of the affected fruit beginning to dry up. We did our first good test of Stevens Semillon today and hopefully, we will get some of that off Friday 29th January. The weather forecast is for an afternoon storm so we have switched mechanical harvesting to early morning starts.
Tuesday, had overcast but a fine morning. Moved into the Old Vines and Well Block Chardonnay. Australia Day picking cost at $57.00 per hour, but the fruit needs to come off and I am concerned that if we stop picking Chardonnay that we will begin to lose too much fruit. Started in Penfold Vale with the machine picking Chardonnay and went all day without getting bogged. The forecast is for more rain on Friday night so the decision is to push on and get all the good Chardonnay finished before then.
Wednesday, hallelujah……another fine day. Temperature mid 20's, 70% cloud cover. This was the biggest day of vintage with 70 tonnes processed over seven different batches of grapes. Everything went to plan; all the logistics for the day were a breeze. I was glad we picked yesterday as the Chardonnay on the Short Flat is starting to get more bunch rot. We picked about a third of the Stevens Semillon today, which looks good. The rest of it is either not ripe or too wet.
Thursday morning, looked out the window at 4.30 pm and it was dry, but at 6.00 am it was mizzle (the English play cricket in it, and we pick Chardonnay in it.)  All cleared up by 7.30 am with less than 2mm. Hand picking team had a long day and we finished all the Vat 47 material by about 2.30 pm and by 6.00 pm that night, had about 90% of Penfold Vale Chardonnay in the winery. Last of the Verdelho for the 2016 vintage came in from the Tinkler's and we will end up within a tonne of our Verdelho budget. The first tank we picked, which is based on John Tulloch's 1926 block, will make very good Fordwich Verdelho and the rest will go to Old Winery and will be between 11.5 – 12% alcohol, which is just where we want it.
Friday morning, no hand picking until Monday and after this week, the pickers' deserve a rest. The harvester is back in Penfold Vale with about 6.5 acres left to pick. We should get half of that before it gets too wet so we will only lose four or five tonnes, which is a lot better than we thought at the beginning of the week. If we try to pick all of it, I reckon the harvester will disappear out of sight. So, all the Chardonnay (bar two tiny blocks) will be picked today. We are sampling all of the Semillon and I would suspect we start in earnest on Monday with the plan to be finished with all the Semillon by Tuesday next week.
This morning's forecast is for storms tonight and maybe Sunday night, but the week or so after that looks clear and thankfully, this morning the wind has turned around to the north west, which will work in our favour drying the vineyards out.  Every spare tractor is out slashing today as the grass in the rows seems to grow about a foot a day. A good week with some good Chardonnay in the winery and let's hope we are in the same position with Semillon this time next week. There are a lot of people already picking Semillon and the few I have seen look a bit thin and green. As we did last year, we will wait until the flavours are right and sacrifice some quantity to get quality.
Edition 3: Monday 8th February 2016
The week before last was Chardonnay week and last week was Semillon week. Last week also gave us the great quote for Vintage…vineyard manager, Andrew Pengilly, and his offsider, Pete Hickey, to the winemakers…"the fruit was in perfect condition when it left the vineyard…what have you done to it?"
Last Saturday week we started Semillon in earnest with our second Stevens block and half of Pokolbin Hills. If you sent away an order for Semillon, the Pokolbin Hills is what you would have asked for. It was nice to know early that we had one great Semillon in the tank. Monday morning early, started the machine on HVD Lost Block and Steroids Block, which went for two and a half nights. The hand pickers were in Johnno's Old Vines for the Basket Press and then started on the Short Flat for Vat 1. We didn't finish picking the Flat until Wednesday night as there is a lot of cutting out and hand sorting of rotten berries. This makes picking slow and expensive but the end result was worth it. Hand picking costs have been between $700 – $1,000 per tonne, which is $9.00 – $15.00 per dozen. Machine harvesting is around $1.00 per dozen. Thursday morning, we were ready to go into the Old Vines on HVD Semillon. I got up at 3.00 am and it was dry, and then again at 5.30 am and we had 17.5ml of rain. The fruit was too good to pick wet so we sent the pickers home and lost a day. By Thursday night it was clear enough to start machine harvesting again. With the loss of Thursday, we increased the number of pickers on Friday and got through two thirds on HVD. Again, there was a lot of cutting out and sorting to do. With equivalent of 1,000 dozen HVD Semillon in the tank, we decided to go to Belford on Saturday and get as much of that off as possible. The fruit was much cleaner there and we were able to get across it quickly. The photo to the left shows the 90 odd pickers at Belford but more importantly, the people up on the bins double checking every bunch and cleaning out any imperfect fruit.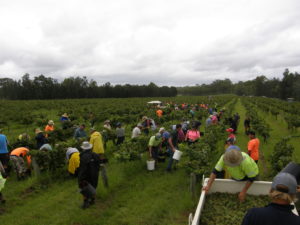 In general, the weather for the week was in the high 20's with some cloud cover and a bit of breeze; almost perfect conditions for picking grapes. The decision to wait for the flavour to come into the Semillons and the green hardness to disappear, certainly worked for us. The winery are talking about Semillon like 2006; they are all about 11% alcohol, plenty of flavour and softness. A major problem this last week is having enough working leaf to get the Semillon flavour ripe and this will be a problem with the Shiraz. Vines that were picked a week ago, now look like it's the beginning of winter. Much of the leaf damage is a result of the three hail storms. We will finish all of the white by Wednesday morning at the latest then the first 10 tonnes of Shiraz will go through the crusher tomorrow morning. After a full test of all the Shiraz to be hand-picked this morning, we will pick about one third this week and then wait until probably Tuesday the following week. Most of the testing is between 11 – 12.5% alcohol equivalent and will be good to get tomorrow morning's batch through the crusher to see how much extra sugar we pick up from the number of dehydrated berries in each of the bunches. I would suspect that in two weeks time, Vintage in the Hunter will be just about over.
We have had a great week of Semillon and are probably the last winery in the district to finish picking whites. We now have about 700 tonnes through the crusher. There is a band of big high pressure systems across the bottom of Australia, which should give us two weeks of fine weather…….fingers crossed.
Edition 4: Friday 12th February 2016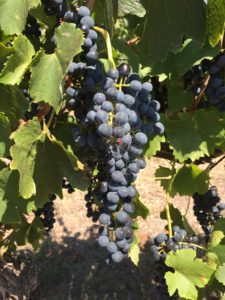 This has been almost a perfect week weather wise; clear skies, high 20 degrees maximum and a little bit of breeze to keep the pickers cool. The only criticism of the weather gods would be quite dewy still mornings. The week saw us finish all the Semillon and get a start on the Shiraz. Interestingly, since we started picking, we have had only 57.5 mm of rain and for the same time last year, we had over 300mm.
Monday, we finished Belford and HVD Semillons and Tuesday and Wednesday mornings, picked the Chardonnay and second half of the Semillon at Pokolbin Hills at almost the same sugar levels as the first batch two weeks ago. Sugar levels hadn't changed in the Semillon as the leaves have shut down and now look like it's autumn. I was happy with the Pokolbin Hills Semillon as I have been prepared to sacrifice it to make sure we get the best possible out of HVD and Belford. Thankfully, we only lost about two tonnes in a little sheltered corner that gets no wind. This is always going to be a problem unless we blow up half of Tinkler's trees next door. The first Shiraz was crushed on Tuesday morning from a contract customer – on Monday, it tested 12.8 alcohol equivalent but had gone up to 13.8 in the fermenter. This was basically from the extra sugar picked up in the shrivelled berries. Wednesday, was picking the Shiraz with both machine and hand pickers; good sugars and good colours, but will need to be careful with ferment management to make sure we don't destroy the skins and extract too much tannin. More Shiraz from across the road from the winery on Thursday and today, we have picked a big chunk at the back of Weinkeller, which should form a base for Vat 9. Tomorrow, we will go into Stevens' Old Hillside and start picking the Old Patch. The Shiraz are in two lots at the moment; what we are picking is as close to ripe as we are going to get and the other half is still green and we are going to have to wait until end of next week. Where we start to pick next week will be determined by Sunday's temperature, which is forecast to be 37⁰C, and this is about when the vines shut down. The concern is that the fruit will be very shrivelled by exposure to those temperatures and we could lose more of the scant amount of working leaf that we still have left. But, all in all, this time next week the Hunter vintage will be as good as over and will look about over four odd weeks and think how lucky we are to have got so much good fruit into the winery.
Andrew Pengilly and Mark Richardson are in Heathcote today and we plan to start picking there Wednesday night next week. Funnily, we had the same amount of rain in the Hunter in December as the Heathcote region has had in the last 12 months.
This week has also seen the first real use of the new red fermentation area, which has worked almost perfectly with just a couple of little teething problems. It will certainly make our red vintage a lot easier physically, and give us another couple of percent of quality.
Edition 5: Thursday 18th February 2016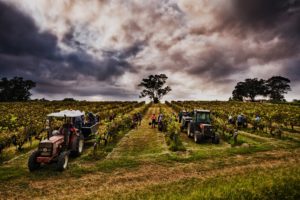 Almost the same weather conditions as last week; clear skies, high 20's into the 30's, little bit of breeze and again, some fairly dewy mornings. Sunday, the maximum got up to 38⁰C and that moved all the red sugar levels up. By late tonight, we will only have the 8 Acres, DeBeyers, Old Hut, Mother's Shiraz and the last block of Stevens' Old Hillside. The Stevens and 8 Acres will be picked by hand and the rest by machine. Sugars have ranged during the week between 12.5 – 14% with probably the best Shiraz from the blocks just across the road from the winery. I think, at the end of the reds, we will have some very good wine and a chunk of very solid Shiraz, and then a few tonne that will not make the grade. All things being equal, we will finish the Hunter Shiraz tomorrow night or Monday, depending on tomorrow morning's early test.
Heathcote started last night and the first 32 tonnes are at about Yass on the Hume Highway as this is written. I went through all the Semillons on Tuesday with Brian McGuigan and he was very keen on them all. He picked the HVD immediately, which I expected as he made a lot of them for Penfold's in his early working career. We continue to be impressed by all of this year's whites and the reds probably won't shake out until they go through malolactic over the next two months.
Edition 6: Friday 26th February 2016
A much quieter week. We finished picking the Hunter on Monday with Shiraz from DeBeyers, the Old Hut and the 8 Acres. Our concern for the few days up until Monday was to get through without any real rain as the berries were starting to shrivel and these three vineyard blocks needed the extra days to get just enough flavour ripeness. The overall quality of the Hunter red vintage is a lot better than we thought it would be three or four weeks ago but it is still a bit early to tell exactly what we will have out of the vintage at the top end. There will certainly be Vat 8 and Vat 9; Johnno's looks very good but the rest we will need to see when malolactic is over. I checked on some back vintages and we finished within a one or two in the Hunter of the 2009 vintage, but Heathcote, where the last grapes will be picked on Sunday night, will be a full month earlier than in 2009, which shows that the impact on climate is not Australia wide, it is regionally based.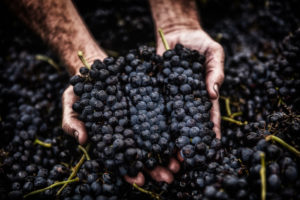 Heathcote started picking at the end of last week. We handpicked some whole fruit through Monday, Tuesday and Wednesday. This handpicked fruit will be distributed through the fermenters of machine harvested to get a bit more tannin and a bit more richness. Just as we started to pick in Heathcote, the sugar levels jumped and 2016 Rufus Stone will be more like 14.5% alcohol – the fruit is all clean and in good condition. The last to be picked will be about 20 tonnes from our next door neighbour that will come from his new plantings of the Tabilk Shiraz clone. We will make this on its own and see how that differs from the Wood Duck Dam clone on our own property.
Heathcote looks like being exactly on budget, with our own property picking just over 2 tonnes to the acre. We have some Grenache and Shiraz to make from McLaren Vale toward the end of next week and then we are probably two weeks away from starting at St Mary's (down next to Coonawarra).
Some interesting statistics – January was the wettest on record, ahead of 1972; and February looks like being the driest on record, after 1972. If the whites turn out to be as good as 1972, I will be very happy, because I have always reckoned that Vat 1 Semillon 1972 is the greatest Tyrrell wine I have ever tasted.
Edition 7: Wednesday 2nd March 2016
"There will be some very, very good wine out this year" – Bruce Tyrrell.
Vintage 2016 at Tyrrell's Wines has been a lucky one. It's been a challenging year; after a lot of rain at the beginning of the season, we had some dry weather and the fruit was able to hold on. But Tyrrell's has come through well, in both the white and red wines.
Watch as Bruce and Chris Tyrrell discuss how Vintage 2016 has been going at the winery and what we can expect from the grapes that have been picked.